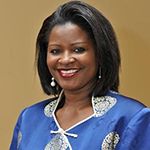 Amina Gerba
President/CEO & Founder, Afrique Expansion
Featured on:
Mrs. Amina Gerba is the Founder and President of Afrique Expansion, Inc. Based in Montreal, Canada, her firm is a world-class international business development consultancy, strategic communications, and media relations practice—dedicated to promotion closer commercial relations between North America and the emerging markets of Africa; to advance trade, investment, and economic development opportunities and partnerships across the Atlantic; in addition to promoting a more positive image of the continent.
An African-Canadian of Cameroonian-descent, after completing her academic studies she worked in business development and International marketing for several Canadian firms. Inspired by her entrepreneurial spirit and realizing the lack reliable market information available to Canadian businesses and policy makers, she decided to launch Afrique Expansion. Shortly after this, she also launched a couple of other entrepreneurial enterprises, including a line of African Shea Butter natural cosmetics and organic skincare products under the KARIDERM® brand—in addition founding a Shea haircare firm, Kariliss Laboratories, Inc.
Mrs. Gerba serve on the board of the Canadian Council on Africa, the African Business Roundtable and Fonds Afro-Entrepreneurs. She is the past president of the Rotary Club of Old Montreal; and a member of WEConnect, one of the world's largest international businesswomen's organizations. Her numerous awards for achievements in business and community service include the Chevaliere de l'Order national du Quebec by the Prime Minister of Quebec, and the Entrepreneur of the Year by the African Business Network, among others. In 2013, she was also selected by the U.S. Department of State for the prestigious and highly selective International Visitors Program to the U.S. Mrs. Gerba holds an MBA from the School of Business at Universite du Quebec-Montreal (UQAM). And in 2012, she was honored with UQAM's Prix Reconnaissance Award, in recognition of her outstanding service and contributions to the local and global community.
Read more