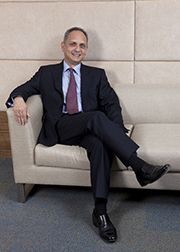 Ali Ansari
President and Chief Executive Officer, Engro Corporation
Featured on:
Ali Ansari is the President and Chief Executive Officer of Engro Corporation – one of the largest business conglomerates of Pakistan – with interests in fertilizers, foods, energy, trading, and petrochemicals businesses.
He is a strong proponent of inclusive growth and has instituted group-wide mapping of value chains and reorganizing businesses to pursue inclusive growth. He strongly believes that together through public-private collaboration, Companies can be a force for good and impact meaningful change.
Through various interventions Engro has benefitted more than 1.5million agricultural farmers resulting in an increase of Rs. 120 billion in net farmer income. The training of 20,000 Female Livestock Extension Workers in collaboration with USAID has improved yields and improved livestock management, aggregating to approximately 20% increase in incomes along with provision of livelihood opportunities. In addition, the training of over 3,000 farmers in new and innovative rice farming techniques in collaboration with GIZ has resulted in up to 12% increase in yields and 15%-30% reduction in use of water.
Ali Ansari started his career as a Fund Manager at Bank of America in London, then as CEO for Pakistan and later as COO Emerging Europe for Credit Lyonnais Securities Asia (CLSA). He was CEO AKD Securities and in 2006 he partnered with an Oil & Gas company to form Dewan Drilling Pakistan's first independent Drilling Company which he led as its CEO before joining Engro.
Ali is a member of the Board of Directors of Engro Corporation Limited, Pakistan Chemical & Energy Sector Skills Development Company and the Chairman of Engro Corporation's subsidiaries and Engro Foundation. He has chaired a number of Securities & Exchange Commission of Pakistan reform committees and also served on the Board of the Karachi Stock Exchange and as Chairman of National Clearing Company of Pakistan.
Read more
Past Events featuring Ali Ansari